1715 Homann Large Antique Map of Colonial America Virginia Chesapeake Bay NJ, NY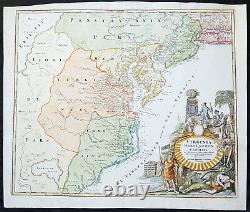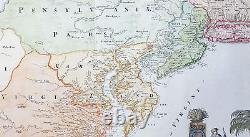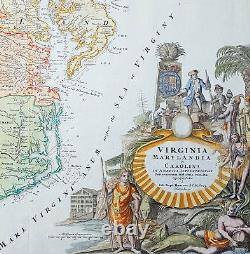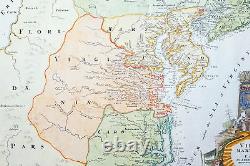 This large finely engraved beautifully hand coloured original antique map of Virginia, Chesapeake Bay, Maryland, the Carolina\'s, New Jersey, Pennsylvania, Maryland, New York and parts west of the Apalchians, was published by J. An exceptionally beautiful example of J. Homann\'s 1715 map of Virginia, Carolina, Maryland, and New Jersey; considered one of the most important and decorative maps of is region to appear in the 18th century. This fine decorative map covers from New York City and Long Island south along the Atlantic Cost as far as modern day Georgia, and as far west as Lake Erie. Virginia Marylandia et Carolina in America Septentrionali Britannorum industria excultae reresentatae a Joh. 24 1/2in x 21 1/4in (625mm x 540mm).
Paper thickness and quality: - Heavy and stable Paper color : - off white Age of map color: - Original Colors used: - Yellow, green, blue, pink General color appearance: - Authentic Paper size: - 24 1/2in x 21 1/4in (625mm x 540mm) Plate size: - 23in x 19 1/2in (590mm x 500mm) Margins: - Min 1/2in (12mm). Margins: - None Plate area: - None Verso: - None. Background: Homann first drew this map in response to Virginia Lieutenant-Governor Alexander Spotswood\'s plan to settled the little known interior of Virginia with German immigrants.
Shown here is the first mapping of Germantown Teutsche Statt on the Rappahanock River and Fort Christanna (Christ Anna Fort) on the Makharing River. Fort Christanna was built with the intention of defending the region against incursions from hostile American Indian groups such as the Tuscarora to the west. Christanna also acted as the headquarters of the Virginia Indian Company, a stock venture founded in 1714 with the intention of trading with indigenous groups in the interior.
Though Homann\'s remarkable representation of Spottswood\'s plan is extraordinarily up-to-date considering that Fort Christana was founded in the same year that this map was initially published, the remainder of the map embraces a number of common misconceptions and cartographic inaccuracies common to the region. Probably the most notable of these is his inclusion of Apalache Lacus. This fictional lake, the source of the May River, appeared on maps of this region since the mid 16th century Le Moyne-De Bry map and was popularized by Mercator and Hondius in 1606. It would remain on maps well into the mid 18th century before exploration and settlement finally disproved the theory. Further north Lake Erie and been expanded dramatically and shifted somewhat to the south where it takes on the appearance of a vast inland sea occupying the entire northwestern quadrant of the map.
This region, west of the English colonies and north as far as Pennsylvana, Homann attaches to the Spanish claims in Florida. Homanns also offers a wealth of detail along the Atlantic coast, where most of the European colonization efforts were focused. From Long Island, about two-thirds of which is shown, south to Craven County, Carolina, countless towns and cities are identified.
New York City is mapped on the southern tip of Manhattan Island, but is not specifically labeled. New Jersey is divided into the colonial provinces of East New Jersey and West New Jersey. Curiously Homann maps a large inland lake \"Zuyd Lac\" straddling the New Jersey - Pennsylvania border. This is no doubt a early misinterpretation of the natural widening of the Delaware River at the Delaware Water Gap. Heading south along the Delaware River Philadelphia is identified and beautifully rendered as a grid embraced in four quadrants.
Both the Delaware Bay and the Chesapeake Bay are rendered in full and even include a number of undersea notations and depth soundings. In Virginia and Carolina the river systems are surprisingly well mapped and a primitive county structure is beginning to emerge. The early Virginia counties of Rappahannock, Henrico, City, Isle of Wright, Nansemond, Northumberland, Middlesex, Gloster and Corotvk are noted. Similarly in Carolina a number of counties are named, most of which refer to the Lords Proprietors, including Albemarle, Clarenden, and Craven. Cape Fear, Cape Lookout, and Cape Hattaras are noted and a number of anchorages, reefs, and depth sounding are noted along the entire coastline.
The lower right quadrant of this map is occupied by a fabulous decorative title cartouche. Centered on an enormous scallop shell bearing the map\'s title and Homann\'s Privilege, the cartouche features a number of stylized American Indians trading with European merchants. The wealth of the region is expressed by an abundance of fish, game, and other trade products. Curling behind the scallop shell is a gigantic stylized alligator looking like nothing so much as a mediaeval dragon. The inclusion of Homann\'s Provildge in the title cartouche helps us to date this map to about 1715, when Homann was granted the right to add this royal distinction to his maps. Following the long period of Dutch domination, the Homann family became the most important map publishers in Germany in the eighteenth century, the business being founded by J. Homann in Nuremberg about the year 1702.
Soon after publishing his first atlas in 1707 he became a member of the Berlin academy of Sciences and in 1715 he was appointed Geographer to the Emperor. After the founder\'s death in 1724, the firm was continued under the direction of his son until 1730 and was then bequeathed to his heirs on the condition that it trades under the name of Homann Heirs.
The firm remained in being until the next century and had a wide influence on map publishing in Germany. Apart from the atlases the firm published a very large number of individual maps.
The Homman\'s produced a Neuer Atlas in 1714, a Grosser Atlas in 1737, and an Atlas Maior with about 300 maps in 1780. They also issued a special Atlas of Germany with full sized plans of principal cities, school atlases and an Atlas of Silesia in 1750 with 20 maps. What is an Antique Map. The word Antique in the traditional sense refers to an item that is more than a hundred years old. The majority of antique maps for sale today come from books or atlases and have survived due to the protection offered by the hardback covers.
The first thing to determine when staring a collection or purchasing an item, is what is important to you. Most collectors prefer to build their collections around a theme. You may decide to collect maps from one region or country, charting its development through time.
Similarly you could collect maps of one particular period in time, by type i. Sea or celestial charts or by cartographer.
The collector might also want to consider the theme of cartographical misconceptions such as California as an island or Australia as Terra Australis or the Great Southern Land. The subject is so wide that any would-be-collector has almost endless possibilities to find his own little niche within the field, and thereby build a rewarding collection.
Starting a collection & pricing. Pricing is based on a number of different factors, the most important of which is regional. In any series of maps the most valuable are usually the World Map and the America/North America.
The World because it is usually the most decorative and America because it has the strongest regional market. Other factors that come into play re: price is rarity, age, size, historical importance, decorative value (colour) and overall condition and quality of paper it is printed on.
As specialised dealers, we frequently work with first time map buyers who are just starting their collection. Classical Images was founded 1998 and has built an excellent reputation for supplying high quality original antiquarian maps, historical atlases, antique books and prints. We carry an extensive inventory of antiquarian collectibles from the 15th to 19th century. Our collection typically includes rare books and decorative antique maps and prints by renowned cartographers, authors and engravers.
Specific items not listed may be sourced on request. Classical Images adheres to the Codes of Ethics outlined by the Antiquarian Booksellers Association of America (ABAA). We are a primarily an online based enterprise, however our inventory may be viewed by appointment. This item is in the category "Antiques\Maps, Atlases & Globes\North America Maps".
The seller is "searching01" and is located in this country: AU. This item can be shipped worldwide.